---
---

We know your type: dedicated freeride skier, always leaning towards the tall-cuffed, ultra-stiff boots. Hell, you might still be rocking some plug boots from the golden years of your racing career. A lot of these walk-mode boots seem downright dadly, right? Well, not the K2 Pinnacle 130 Ski Boots. With a burly 130 flex, Synchro Interlock™ walk mode, and integrated tech fittings, you get the rigid downhill performance you crave while also being more than capable on the skin track. Boom; did we just open up a new realm of terrain for you?
Fit
Last: 97 mm – K2's low volume (LV) last that provides improved performance for those with narrower width, lower instep height feet.
FitLogix™ Design – A design philosophy that puts your skiing first, optimizing foot comfort and boot performance.
Custom Thermo Shell – The shell can be heat molded, punched, ground and customized with your favorite boot fitter for optimized comfort and performance. The shell can be widened up to 6 mm with this process.
Power Wedge & Collar – Offer varied forward lean and upper cuff support.
Navicular Punch – A bump is pre-formed in the navicular area of the medial ankle where many skiers experience pressure.
Asymmetrical Toe Box – K2 matches the toe box to the natural curvature of your toes for a more precise and comfortable fit.
Flex
Flex: 130 – As stiff as freeride boots get, the 130 flex is just right for driving the biggest skis at the highest speeds.
Liner
PrecisionFit Intuition® Tour Liner – K2's premium level liner uses traditional foams around the ankle for superior response and fully heat moldable Intuition® foam around the foot for a custom fit.
Lasted Liner – Lasted liners are formed around a standard foot shape for improved out of the box comfort.
Shell Materials & Design
Cuff / Shell – Polyurethane
Energy Interlock – A rivet-free technology that integrates the cuff and shell of the boot. The Interlock stretches when the boot is flexed forward, and the energy is released throughout the turn, creating a smoother, more natural flex than riveted designs.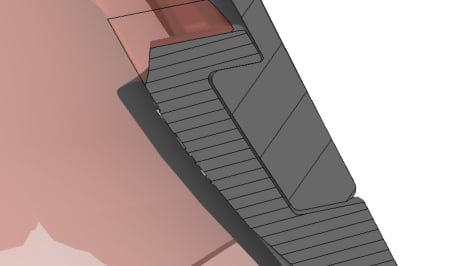 PowerFuse SpYne – A rear co-injected "Y" shaped design that adds strength and power to the Energy Interlock, the PowerFuse SpYne maximizes fore/aft flex efficiency and lateral stiffness for sustained performance and responsiveness in all terrain. Because of the SpYne, we are able to optimize materials in the cuff and shell, eliminating excessive vibrations in rough terrain.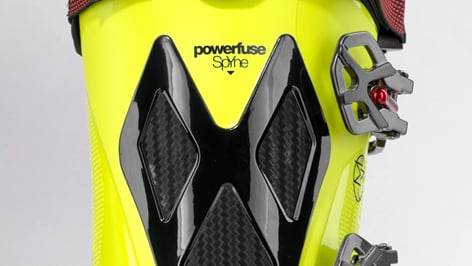 Stance
Dual Adjustable Cuff Alignment – Adjust +/- 2.2 degrees on medial and lateral sides for a total range of 4.4 degrees. This enables adjustment to the lower leg angle for maximum comfort and performance.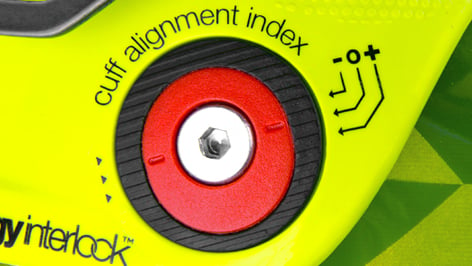 Ski/Walk Mode
Synchro Interlock™ – Built on the Energy Interlock design platform, the Synchro Interlock enables the simulatenous release of both an internal V-notch wedge and the Energy Interlock. When disengaged, the upper cuff is unlocked from the lower shell for fore and aft mobility by removing the wedge and opening the v-notch in the shell which increases the forward flex for more efficient movement. When engaged, the Synchro Interlock™ creates an all-mountain boot, with 100% of the flex index and uncompromised downhill performance.
Buckles
6060-T6 Light Alloy Buckles – Extruded hardened aluminum alloy build with a minimalist lightweight design.
Wider Third Buckle – A wider catch and ladder for a more secure fit and keeps your catch in place when your boots are unbuckled in walk mode.
Power Strap
Power Buckle – Extra-wide 45 mm powerstrap transforming the three buckle boot design into a four-buckle, hard charging freeride boot.
Sole
Integrated Tech Fittings – Fully integrated into the shell injection instead of just the outsole pods, making K2 outsoles compatible with both DIN Alpine and Tech bindings.
Padded Mid-Grip – Duel Injected Thermo Plastic Rubber (TPR) for added grip and traction while walking on rocks or riding on snowmobiles.
Includes Vibram® Rubber Outsoles
Vibram® ISO 9523 Touring Soles | Sold Separately – For added grip, traction and security when climbing or hiking more technical terrain.
Ability Level:Advanced-Expert

Ski Boot Flex:Very Stiff

Forefoot Width:97 mm
Liner Type:Semi-Custom
Flex Index:130
Boot Sole Type:Alpine DIN (ISO 5355), Tech
Alpine Touring Mode:Yes
Includes Tech Fittings:Yes
Number of Buckles:3
Touring UsedFor:Burly
Warranty:1 Year
---